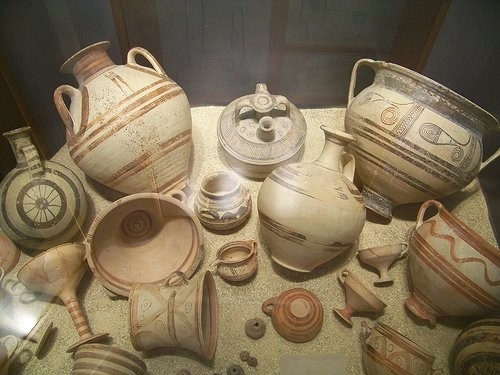 The archaeological museum of Astypalaia deserves your attention. You will find it in Pera Gialos in a ground floor house. These findings are of interest, ranging from prehistoric times to the medieval period and demonstrating the historical presence on the Astypalaia island at the time.
Είσοδος Αρχαιολογικού Μουσείο Αστυπάλαιας στο Πέρα Γιαλό Ευρήματα Αρχαιολογικού Μουσείου Αστυπάλαιας
View pottery, jewelry, silver coins, votive descriptions, Mycenaean tools etc. found in locations of the island. During our visit there, we obtained permission to take a few photos.
See the family crest of Quirini up pagan symbols you will find interesting!
Museum working hours:
> Tuesday to Saturday from 8:00 to 20:00.
> Sunday to Monday from 09:00 to 15:00.
The entrance is free
In case there is a change in the working hours, a notification document will be placed in the entrance of the museum the previous day.
Contact number: (+30) 22430-61500