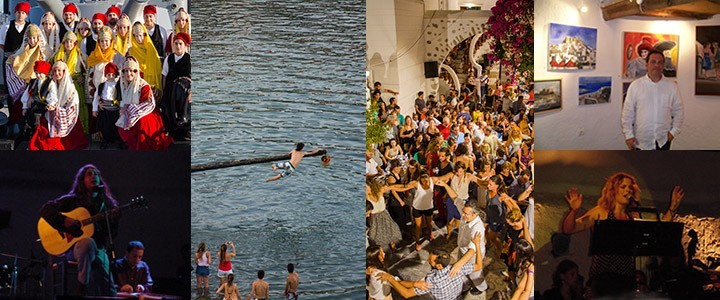 How could miss the culture of a place to walk so much in the Greek history , with places still remain imprinted on the soil of Astypalaia , to inspire and be a guide for future generations . Culture is the memories , respect for tradition , the value system is the way it looks to the future . Culture is the maintenance of diversity. All the above blends conciliator place.
Nowadays a number of events fill the summer nights on the island always with respect to the history and style . It is worth mentioning the Astypalaia Festival made ​​continuously in recent years with great success and managed to bring major names in domestic alternative art scene and major artists loved the world .
Important is the popular festivals held during the summer season all over the island . The festival Prophet Elias (19 July), of Agios Panteleimon (26 July), of Metamorphosis Savior (5 August), of Dormition of the Theotokos (14-15 August), of John the Baptist (28 August), of Mary Poulariani (7 September) and of Mary Flevariotissa (2 February).
The biggest holiday and the most important appointment for the inhabitants of Astypalaia is Assumption ! Panagia Portaitissa , located beneath the castle , where all weekend organized many events . There is plenty of food and music with various local delicacies. A well known dish is the Lamprianou cooking women of the island specifically for this celebration , offering the guests !
Worthy of reference are the Koukania held each summer (August 16) at Pera Yialos -and the old port of Astypalaia .
Do not forget to mention that also are events and exhibitions during the summer, such as a book report and the regional reports to the windmills of Chora .