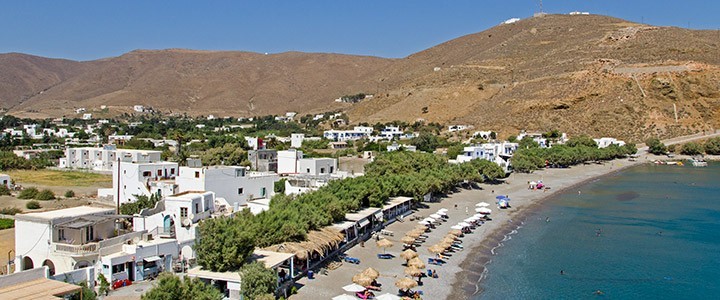 Livadi is located a few kilometres outside Chora and is easily accessible from the big downhill which starts from the road that passes by the Mills. At the first fork on this road and before the bridge, you may choose to take the street that leads directly to the beach and the several little shops that are found there! You can dine at the traditional taverns where you can also enjoy a morning coffee or a drink in the evening. You might also choose to visit the beach for some nice dips in the fresh waters and of course to relax under the hot summer sun. Livadi has the only organized beach on the island offering an abundance of alternatives for entertainment to the tourists, crystal clear waters and an organized area for water sports only 3 km from the centre of Chora.
ΕIt is a splendid location for tourists to spend their vacation, offering plenty of different kinds of accommodation, such as hotels and fully equipped apartments to rent.
If you choose to take the route of the ring road you will reach the other side of the village where you will find yourselves in massive green orchards; this is the only arable land in Astypalaia. The street before the last crossroads to Livadi leads to the dam. To reach Livadi you can use public transportation, your own vehicle or any of the transportation means that are available for rent on the island. Public transport bus services are quite dense during the summer months, with only half-an-hour gaps in the timetabled service.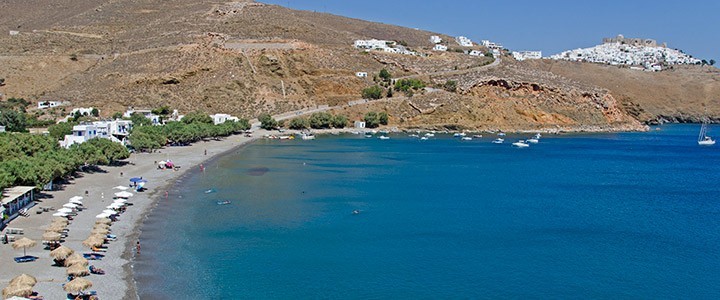 The view from Livadi is extraordinary; while swimming in the fresh waters you have a great view of Chora! The night scenery is also gorgeous as Chora is beautifully lighted and these lights fall on the sea surface creating striking golden reflections.
Livadi could be the base for your ensuing summer searches, since by following the road at the end of the beach after the mini-soccer field you will have plenty of choices! Tzanakia is one of these options. The openings between the huge rocks with the large pebbles are a typical meeting point for tourists who are seeking an alternative way of spending their leisure time!
You can certainly continue your journey following the dirt road which leads either to Agios Konstantinos or to the beaches of Vatses and Kaminakia on the southwest side of the island.