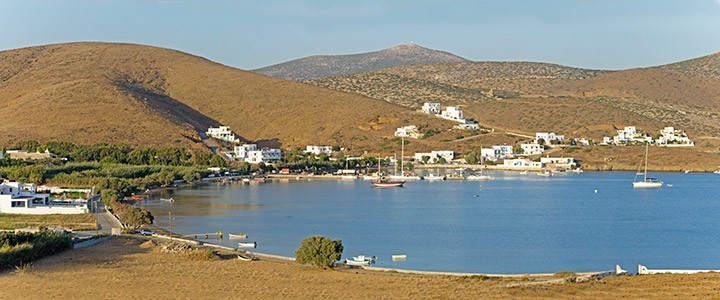 Maltezana or Analipsi is the second largest settlement of the island and probably took its name after the Maltese pirates who used to anchor their ships in this area. Maltezana is located in the so-called "Outer Island" ("Exo Nisi"), opposite from Chora, Livadi and Pera Yalos. It is connected to the capital by road and the services of the local public transportation are pretty regular in the summer months.
For tourists to reach this place they need to cross the narrow strip of land which is called "Steno" and then follow the path down to the waterside which is covered with marram grass. The road up to Maltezana is quite rough as there is no vegetation around and boatyards are covering most of space. However, the scenery has a special – although wild – beauty!
A special feature of Maltezana is its little port where you will see a lot of fishing boats and the local fishermen to be supplying the taverns with fresh fish. You will find them at the port at around noon repairing their nets and getting ready for their next trip.
Let your children play on the beach without worrying about their safety at all. Also enjoy the view of the sea and of Chora which pops up in the background.
In Maltezana you also have many alternatives concerning accommodation which can cover the different needs of each visitor.