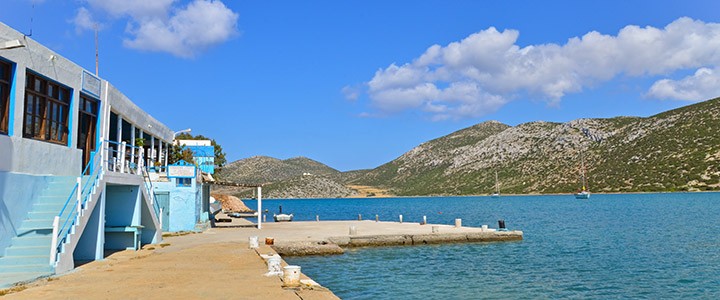 Vathy is the smallest and most remote community of Astypalaia, which – however – had a considerable number of inhabitants in the past. It looks like a lagoon due to its very sheltered bay (approximately 50 m long) which restricts the access of sea water. It consists of two settlements: the settlement of Exo Vathy which is located at the entrance of the bay and has a little marina where the numerous sailboats are being moored, and the settlement of Mesa Vathy which lies at the head of the bay, with fields and vineyards around it. It is only 21 km north-eastward of Chora.
Nowadays, only 3 – 4 families live in Vathy and they are involved in the various activities that keep the area alive. In the 1960s there was a primary school in this small town. Additionally, in the past, the limekilns in the area were employing more than 25 individuals – only locals.
Those who will attempt a visit to Vathy, will find a great tavern at the port, owned by Mrs. Stavroula who will warmly welcome them. The port is probably the greatest shelter on the island, as it is naturally protected from the weather conditions. You will enjoy the view of various yachts and fishing boats which are moored in the little marina.
You will find Vathy on the road heading to Maltezana, behind the beach of Schinonda. You will definitely be amazed by the wild nature and the totally different terrain in comparison to whatever else you have seen on the island.