Agios Ioannis Richtis (Saint John Richtis)
To reach the beach of Ayios Ioannis Richtis you start your ride from the town of Chora. You go past Livadi and Tzanakia Beach. You should, then, take the road towards Vatses – Kaminakia and at the fork that is found a few metres down the road, you should take a right turn (image/ sign 1). Three hundred metres later, you will reach a second road fork, where you should go left heading towards Vatses (image/ sign 2). Subsequently, about 200 m. down the road, you will drive past a farm yard (still heading towards Vatses) and in the end of the uphill road, you should go left after you enter the door of the farm yard; make sure you close the door behind you. You should keep driving on the dirt road and after 700 m., you will reach the beautiful church of Ayios Ioannis Richtis; the beach down the hill was also named after the saint. From that spot starts a beautiful descending path of a nearly 30-minute walk – for the average hiker – through a ravishing gulch which leads to the coast.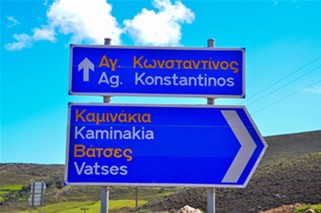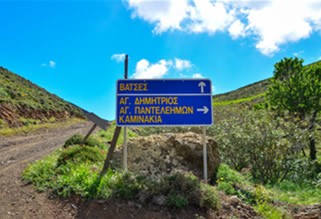 Make sure you are equipped with proper shoes and supplied with water and food. The beach, which is covered in pebbles, is outstanding. There are some shady spots under the rocks. You will most likely enjoy the beach by yourselves, as it is never that crowded!