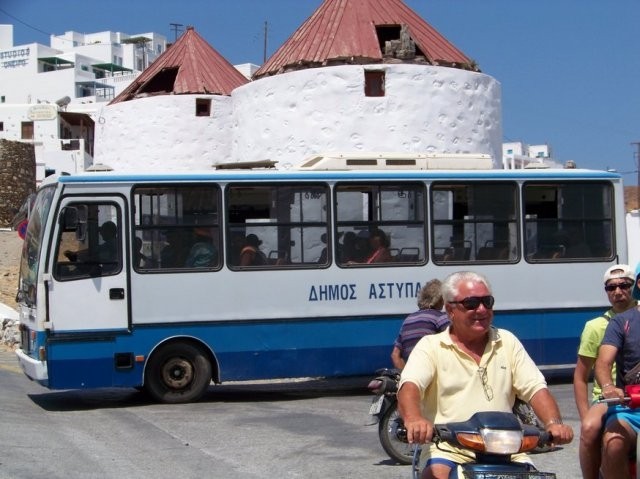 The little buses of Astypalaia
If you choose to use the local means of transport to move around the island, then, try the following suggestions!
The little buses of Astypalaia are as unique as the locals who drive them during the hot summer months! They climb up and down the steep uphill roads of the island picking up and setting down passengers at any point of the route they follow: from Maltezana to the Capital, and from Ayios Andreas (Saint Andrew), the new central port, to Livadi with its large sandy beach! Local buses operate pretty regularly during the summer months; nearly every 30 minutes.
If you get on one of these buses you will definitely listen to various interesting and pretty diverse stories, ideas and views that travellers who visit the island bring along with them from all over the world and are happy to share! The kind bus conductor, the music in the bus, the pretty little baskets where you pick your bus ticket from, and the smile on the faces of the carefree tourists create a perfect picture! You will also meet quite a few locals in the early morning hours, who use local transport for their transfer to various regions on the island. Finally, you will come across several elderly women who will delight you with their distinct local accent!
On your way to the remote areas of the island, moving past the area of Steno, on the road towards Maltezana (if you reside on the west side of the island), ask the driver and the locals to share stories with you! If it is your first time on these buses, they will definitely help you find your lodgment. Ask them to make suggestions on where you can taste good traditional food and tell you all about the adventures you can experience on the island of Astypalaia!
Running to the bus to find some space to fit our luggage after our arrival on the island and the squeeze in the packed local bus was undeniably one of the funniest and most memorable things of our journey!
What I definitely remember from my first experience into these little buses was the feeling of intense expectation to reach the so renowned town of Chora after we had moved past the town of Pera Yalos! The first moments of our arrival at the beautifully lit town of Chora were a hundred percent rewarding!
You should definitely greet and get to know your fellow travelers while you are on these little buses; you will certainly meet them again either on another local bus or while waiting at a bus stop or even while you are out and about on the island! Exchange ideas and share information with them about the must do's on the island!