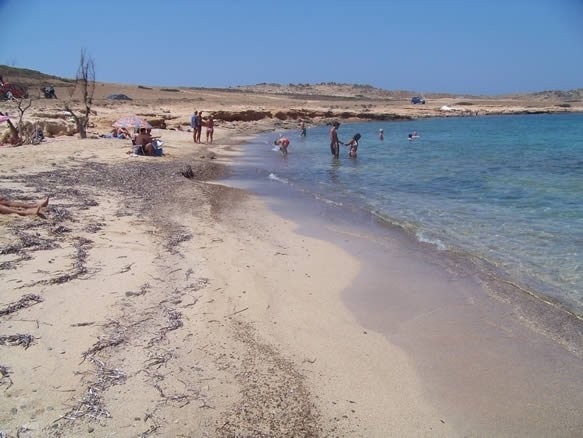 The following suggestion is only for those who like to improvise during their holiday enjoying long hikes and adventure travel!
On your way to Maltezana, ask the bus driver to drop you off at the last junction before the island's airport. If you decide to head from Maltezana to Psili Ammos by taxi, tell the driver to drop you off at the intersection just before the airport, which leads to Psili Ammos. You can certainly reach the place using your own vehicle or a rented car/ motorcycle which you can easily find on the island.
Walk the dirt road that starts in front of you. It is a nice footpath that ends to the beach of Psili Ammos with its fine golden sand and the peaceful environment! During your walk you will see several beautiful and funny images inspired by the locals who do not let anything go to waste.
Make sure you have taken with you all the essentials, such as water, fruit, light food and a tent in order to ensure a shadowy place to relax! It would be good to choose to go to Psili Ammos when the northern breeze is not blowing. You could also ask the local fishermen at the harbor when they estimate that the sea is going to be calm and not rippling. They will sure know!