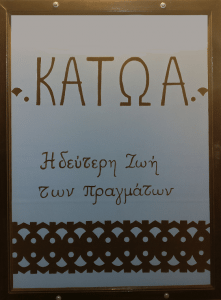 Location: Chora
Seson: 
Easter to end September
Old items meeting newer ones, looking for a new owner and a new function in life.
Handcrafted jewellery, antique or modern, and modified clothing.
Driftwood and thyme transforming into bonsai-like trees.
Recycled or washed ashore materials turning into ships.
Stone ships sailing in seas of sand.
Everything is granted a second life in a place with a history of its own,
a place we invite you to explore.
KATOA
The second life of things